Back
29.05.2019
Gallery: 'Spectre' Launches ( Press Release)
Spectre, a new art installation by Bill Posters and Daniel Howe, is poised to reveal the secrets of the Digital Influence Industry, but only if you are willing, as the artists say, to 'pray at the altar of Dataism with the Gods of Silicon Valley'.
Spectre premiers at Site Gallery, Sheffield, as part of the Sheffield Doc/Fest 'Alternate Realities exhibition and wider programme. This groundbreaking installation, using many of the technologies and techniques employed by tech giants, advertising/marketing firms and political campaign groups, shows how our behaviours are predicted, and influenced, both online and in the voting booth.
Says Posters: "Spectre interrogates and reveals many of the common tactics and methods that are used by corporate or political actors to influence people's behaviours and decision making. This runs through all aspects of the project, from our social media strategy featuring celebrity 'Influencers'; to the A/B testing processes used in development; to the 'personalised' features integral to the gaming industry; to the technologies, algorithms and behavioural profiling used throughout Spectre's system. In response to the recent global scandals concerning data, democracy, privacy and digital surveillance, we wanted to tear open the 'black box' of the digital influence industry and reveal to others what it is really like."
As part of Spectre, Bill Posters and Daniel Howe have collaborated with leading AI technology start-ups including CannyAI, Respeecher and Reflect, to create a range of AI-generated 'deep fake' celebrities – including dead and living artists – that push the fields of generative art and digital storytelling to new heights.
Revived as 'deep fake' avatars, in both the literal and spiritual senses, celebrities including Kim Kardashian, Freddy Mercury, Donald Trump, Marcel Duchamp and more, will engage audiences in the affective power of computational propaganda and the digital influence industry, where notions of truth and free will are not to be relied upon.
Spectre is an immersive, 'black box' installation comprising six 2.2m high monoliths, which tells a cautionary tale of technology, democracy and society, curated by algorithms and powered by visitors' data.
The Digital Influence Industry is a burgeoning and largely unregulated sector. Since 2010, political parties and governments have spent more than half a billion dollars on the research, development and implementation of psychological operations and public opinion manipulation techniques that involve social media—a number that is expected to rise. In many countries divisive social media campaigns have heightened ethnic tensions, revived nationalistic movements, intensified political conflict, and even resulted in political crises, while simultaneously weakening public trust in journalism, democratic institutions, and electoral outcomes.
Says Daniel Howe: "In 2016 and 2017, the UK, US and Europe witnessed massive political shocks as new forms of computational propaganda employed by social media platforms, the ad industry, and political consultancies like Cambridge Analytica were exposed by journalists and digital rights advocates. For Spectre, we used many of the same techniques – data analytics, behavioural profiling, sentiment analysis, deep-learning – to enable audiences to experience the inner workings of the Digital Influence Industry. We wanted to provide a personalized experience that allows users to feel what is at stake when the data taken from us in countless everyday actions is used in unexpected and potentially dangerous ways."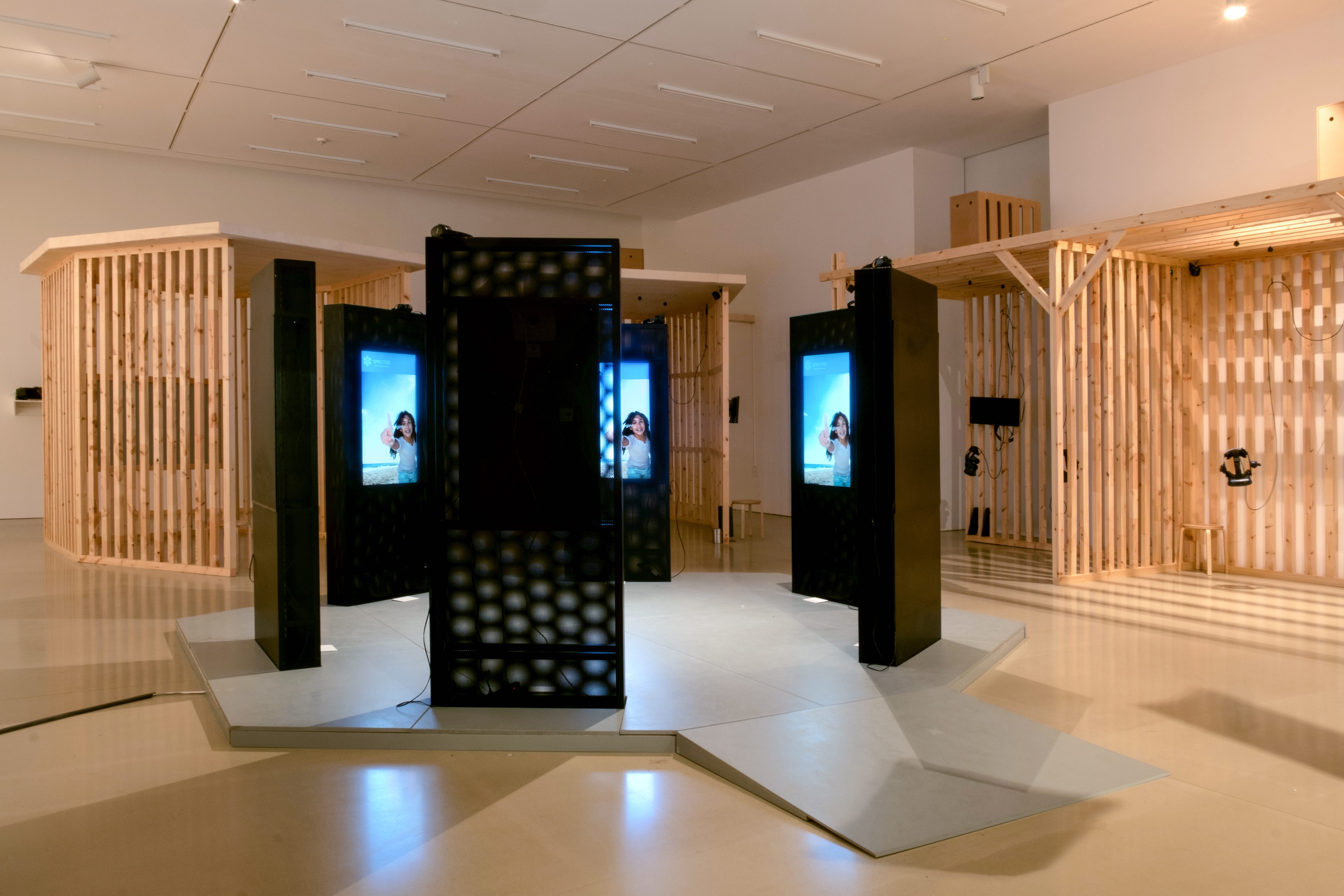 Bill Posters continues:  "The fact that citizens' data  – including intimate knowledge on political leanings, sexuality, psychological traits and personality – are made available to the highest bidder shows that the digital influence industry and its associated architectures pose a risk not only to individual human rights but to our democracies at large. As we have seen with the UK referendum, Vote Leave used this intimate data to micro-target 1.5 billion 'dark ads' to only 7 million voters in the last 10 days of the Brexit referendum with no regulatory control or oversight. Could that have generated a 2% swing in the vote? It is not at all unlikely. So when millions of pounds are poured into advanced forms of computational propaganda without judicial oversight or transparency, it is clear that our democratic processes and the structures that should safeguard them are in danger. History has demonstrated that we can't have democracy without privacy. "
Dr. Omer Ben-Ami co-founder of CannyAI states: "We are excited to collaborate on Spectre in exploring the influence Artificial Intelligence will have on our society. We hope to reveal to audiences what can already be achieved today, and give a glimpse into how AI will change everything we know about storytelling, content creation, and human interaction."
Vesselin Popov, the Executive Director of The Psychometrics Centre at Cambridge who are have supported the Spectre project says: "It has never been more important to engage in open debate regarding the malign impact of AI, social media and big tech on democracy; projects like Spectre can provide tremendous value in engaging and surprising new audiences, creating an imperative for self-reflection and a manifesto for the kind of authenticity or integrity that is so often lacking from our political institutions."
Spectre was the winner of the Sheffield Doc/Fest 'Alternate Realities' commission for 2019, and will be exhibited for the first time at the Alternate Realities exhibition at Site Gallery during the festival which takes place 6-11 June. Spectre is nominated for the 'Best Digital Experience' award as part of the Sheffileld Doc/Fest programme.
The Spectre installation is generously supported by Arts Council England, British Council, Site Gallery, MUTEK and Sheffield Doc/Fest.
Follow Bill Posters on instagram for updates here.
#SpectreKnows