Back
26.10.2018
Intervention: 'Ley Mordaza Me Obliga' / 'The Gag Law Made Me Do It'
'You can't limit art'
– Valtònyc
Portrait in Exile 1 – Valtonyc
Catalonian rapper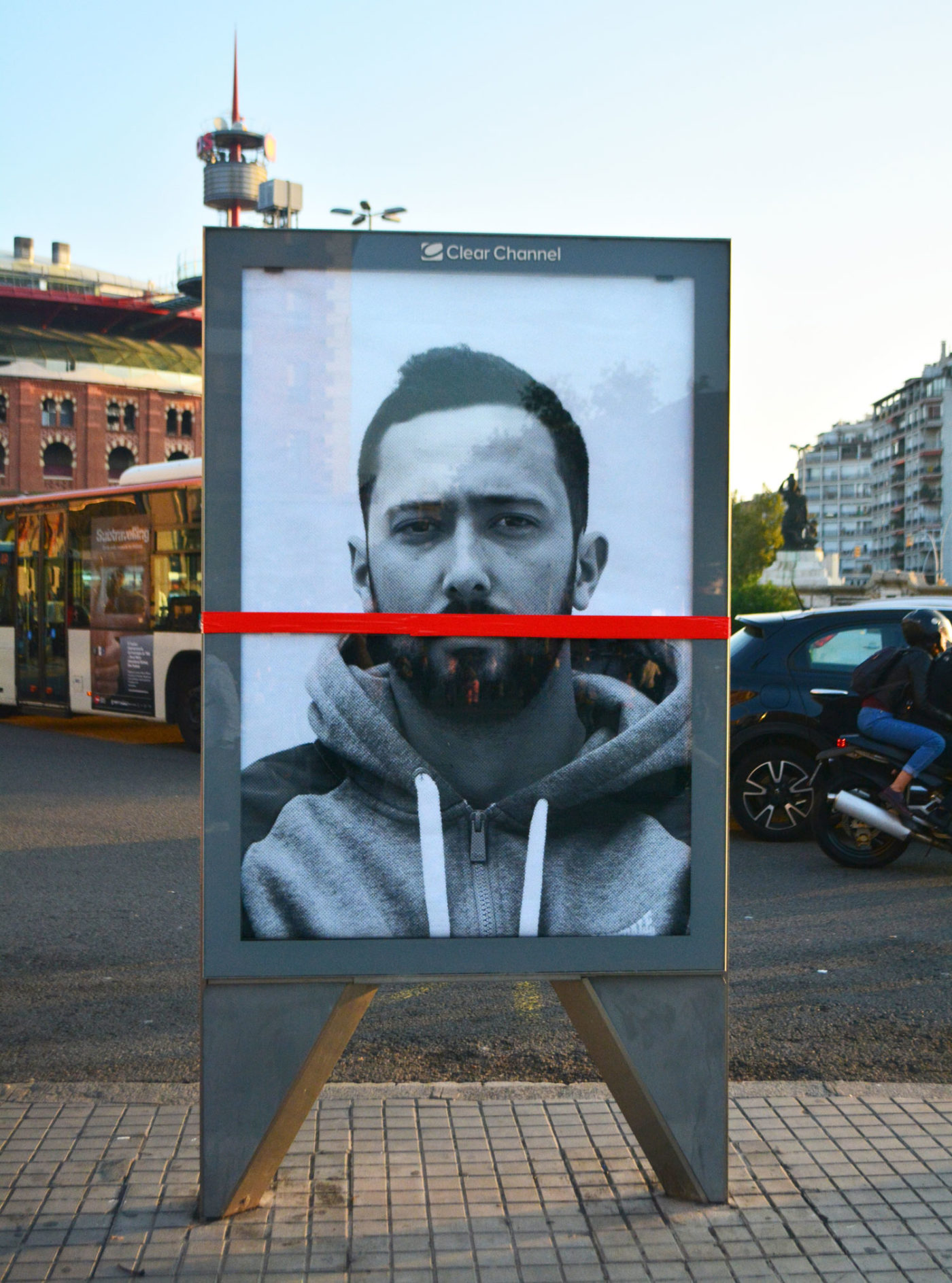 Portrait in Exile 2 – Anna Gabriel,
Former spokes for Catalan pro-Independence campaign, Former parliamentary deputy for Catalonian CUP Party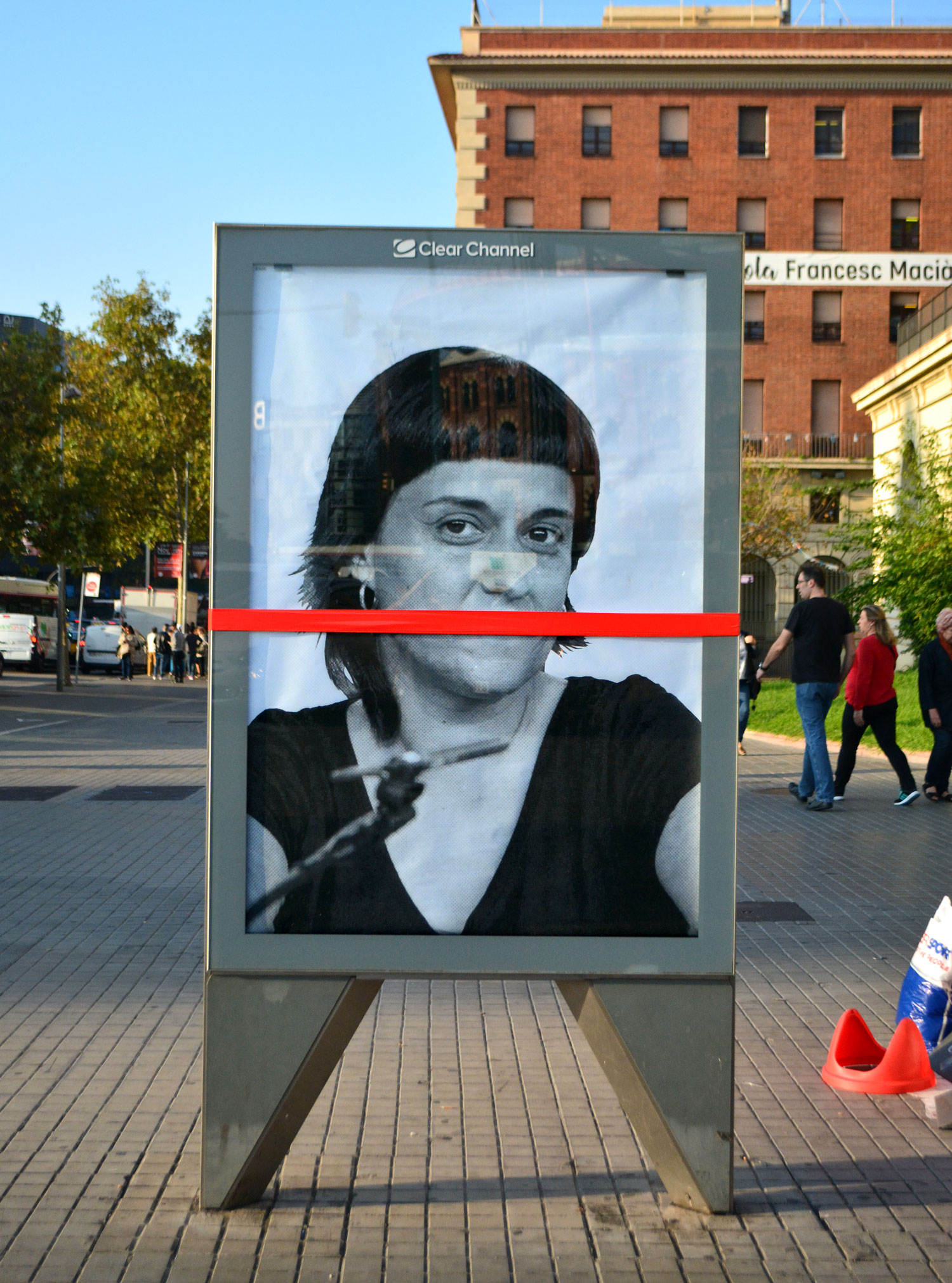 'Ley Mordaza Me Obliga' / 'The Gag Law Made Me Do it'
Intervention duration: 3 days
Location: Placa Espanya, Barcelona
Date: October, 2018
In 2015 the Spanish government passed Article 578 into law. Known as 'Ley Mordaza' – the 'gag law' is a piece of anti-terrorism legislation that has been actively used to silence political and cultural dissent in Spain. Many artists including rappers like Valtonyc, Pablo Hasél and La Insurgencia are in jail or forced exile after prison sentences were passed in their absence for songs or lyrics that challenged and satired the Spanish state and monarchy.
Freedom of speech for artists, activists or anyone who wants to protest outside a government building; smoke weed; photograph police officers; or mobilise friends online to attend protests are all rights that are now removed and restricted.
This intervention entitled 'Ley Mordaza Me Obliga' / 'The Gag Law Made Me Do it' installed in Placa Espanya in Barcelona sees two portraits installed on adjacent sides of an advertising space in rememberence to an artist and an activist that are both in exile due to the legal actions of the Spanish State. The Red tape applied externally invites the public to become participants – accomplices in the act of freeing these symbolic portraits from state imposed censorship.
After the holding in 2017 of the Catalan independence referendum, called by the Generalitat de Catalunya, and declared illegal by the Constitutional Court of Spain, Anna Gabriel – the former spokesperson for the Catalan pro-Independence campaign, was called to appear in front of the Spanish Supreme Court to give evidence about her participation in those events. On 20 February 2018, she stated in an interview to Le Temps that she would not show up for her court hearing, while in a self imposed exile in Switzerland.
Valtonyc, a vocal pro-independence rapper from Catalonia was sentenced to 3 years in prison in March 2018 for lyrics that contained glorification of terrorism, slander, 'lèse-majesté' (defamation against the crown), and threats.
The fates of these two individuals appear bound together, taken hostage by the Spanish state's legal apparatus that is increasingly designed to silence both political and cultural dissent.
"[The state is] afraid because these lyrics reach a lot of young people, and they don't want those people to get involved in the struggle for the rights that are denied us."
– Pablo Hasél, Catelonian rapper
#LeyMordazaMeObliga – download the Subvertising tutorial (Español)
 'Ley Mordaza'
In the first seven months of the law being passed 40,000 sanctions were imposed , according to statistics from the Ministry of Internal Affairs. In that time frame, 6,217 sanctions were processed for disrespecting the police, this being the second biggest cause for penalties. Over the last three years there has been a litany of other cases in which performers, and rappers in particular, have faced similar legal action in Spain over their content:
• In May 2015, César Montaña Lehmann, the lead singer of the Spanish rap-rock band Def Con Dos, was arrested by military police and accused of inciting terrorism. According to police sources, various tweets led to his arrest.
• In 2016, two puppeteers spent five days in jail in Madrid for staging a children's show in which one of their puppets held up a placard that read: "Long live Al Qaeda-ETA."
• In 2016, Axier López , photographer and correspondent for the magazine Argia was fined with 601 euros for tweeting photographs of the detention of an activist in Eibar.
• In December 2017, 12 members of the rap group Insurgencia each received two-year jail terms, for allegedly glorifying terrorism in one of their songs
• In March 2018, Catalan rapper Pablo Hasél also received a two-year sentence and a fine of 37,800 euros (£33,500; $46,700) for repeatedly praising terrorism, and for slandering Spanish state and royal institutions.
The restrictions on freedom of expression have also permiated into Spain's cultural institutions. An exhibition at Barcelona's Museum of Contemporary Art entitled "The Beast and the Sovereign" was cancelled by museum director Bartomeu Marí in March 2015 after he deemed one of the pieces in the show "inappropriate". The offending sculpture — "Haute Couture 04 Transport," by Ines Doujak — depicts the king of Spain being sodomized by a figure inspired by working-class feminist Bolivian leader Domitila Barrios, who is in turn being taken from behind by a German shepherd, all atop Nazi helmets.
Given Spain's historical legacy concerning restrictions on freedom of expression, the impacts on culture, politics and art under the overt repression of 'Ley Mordaza' create a toxic environment where fear of repression by police and state forces is a very real threat for socio-political artists, activists and members of the public alike.
Further legal restrictions on cultural and political expression:
1) Fines for protesting
Under the new law, anyone who organizes or takes part in an "unauthorized protest" could be fined between €30,000 and €600,000 if the protest takes part near institutions such as the Spanish parliament.
2) Distrupting public events
Disrupting events such as public speeches, sports events or religious ceremonies could face fines of between €600 and €300,000.
3) Botellón
The Spanish tradition of getting together with mates for outdoor drinking sessions looks to be officially over – drinking in public will be hit with fines of €600 under the new law. And teenagers won't escape – Parents will be held responsible for the payment of their offsprings' fines.
4) Social media activism
Using Twitter, Facebook or Instagram to call on people to protest will be fined under the new law, an attempt to put paid to the spontaneous protests that have proved very powerful in building the indignado movement.
5) Photographing police
People will be fined for taking unauthorized photographs of the police, a measure introduced with the argument that being publically identified could put officers and their families in danger.
6) Smoking weed
It puts an end to the laissez faire attitude that has seen Spain become a nation with one of the largest potsmoking populations in Europe. But from now on lighting up a joint in bars or on public transport could result in a fine of between €600 and €30,000.
7) Leaving furniture in the street
It is a tradition that has existed in Spain long before the current upcycling trend but from now on dumping unwanted furniture in the street could come with a penalty. Those caught obstructing streets with old furniture, cars or other unwanted items will be fined.
8) Trying to stop an eviction
People trying to stop an eviction from taking place could be fined between €600 and €300,000. The number of evictions in Spain has skyrocketed since the beginning of the economic crisis. New Barcelona mayor, Ada Colau has been a famous anti-eviction activist.
9) Not having your ID
Spaniards who are asked to show their ID card and do not have it on their person could be in trouble under the new law. If they cannot immediately locate it at home and have failed to report it missing, they are liable to be fined.
10)  Disrepecting a police officer
Showing a "lack of respect" to those in uniform or failing to assist security forces in the prevention of public disturbances could result in an individual fine of  between €600 and €30,000.
"Tomorrow is the day. Disobedience is legitimate and a duty. Here, no one surrenders"
– Valtònyc