Back
19.01.2020
PRESS: The head of Instagram says company hasn't taken down a fake video of Facebook CEO Mark Zuckerberg because 'the damage is done'
With all the intense press interest last year concerning the Spectre project, we missed this article by Business Insider in June last year concerning our digital intervention on Instagram that sought to critique their (distinct lack) of policies concerning synthesised media and misinformation.
Here is a re-post of some of the content from the article, hope you enjoy the read…
Head of Instagram Adam Mosseri said in a CBS News interview with Gayle King that Facebook hasn't taken down a fake video of Mark Zuckerberg saying he's in control of "billions of people's stolen data" because the damage had already been done.
Instagram still hasn't taken down a fake video of Facebook CEO Mark Zuckerberg because "the damage is done."
CBS News on Tuesday released an interview with Instagram head Adam Mosseri , where Gayle King asked why Facebook hasn't yet taken down a CBS video of a computer-manipulated Mark Zuckerberg saying he's in control of "billions of people's stolen data."
CBS News requested on June 12 that Facebook take down the video due to CBS copyright infringement.
But if Facebook took the video down now, Mosseri said, "we could declare victory but that's not a victory at all, that's totally hollow."
Mosseri suggested that it's too late, since the video had already been up for a significant amount of time.
"If a million people see a video like that in the first 24 hours or the first 48 hours, the damage is done," Mosseri said.
The fake video posted on Instagram on June 7 had been viewed 2,000 times by June 11, four days later, when Business Insider wrote about the video. At the time of writing this article, the video has over 106,000 views, and has been reported on by countless news outlets.
Fake videos with unnervingly realistic computer-manipulated replicas of high-profile individuals saying or doing controversial things otherwise known as "deepfakes" could spread misinformation incredibly easily via social media.
Mosseri said the deep fake problem can't be addressed by taking down content in one-off decisions when Facebook finds it, when it might be too late because the video spreads too far.
Rather, Facebook is working to figure out a "principled way" to find potentially harmful deepfake videos before they spread.
"I think the most important thing for us to focus on is getting to the content quicker. Once we can do that, then we can have the next debate about whether or not to take it down when we find it," Mosseri said."Right now we try to balance safety and speech. And that balance can be tricky."
Link to original article here.
=======================================================================================
Update:
So what is quite interesting here is that the scale of interest in the post on Instagram is potentially at odds with the metrics we have coming out of Instagram in relation to views and audience engagement.
How has a post, that organically went viral, leading to sustained global media interest, only got 120k views? Do these reduced metrics indicate a down-grading of the post in contravention with their own policy regarding fact-checking process (our post was marked as 'Art/Satire' by LeadStories on June 10th, 2019 so should of been exempt from downgrading and censorship)?
Or have they tweaked the views to make the content appear less popilar than it was?
It would also be good to know why we couldn't find the post on any of Instagram's hashtag surfaces that we linked into the post during the peak public and press interest.
Here's a screenshot for the #deepfakes surface (time stamped @ 14 Jun 2019, 23:37):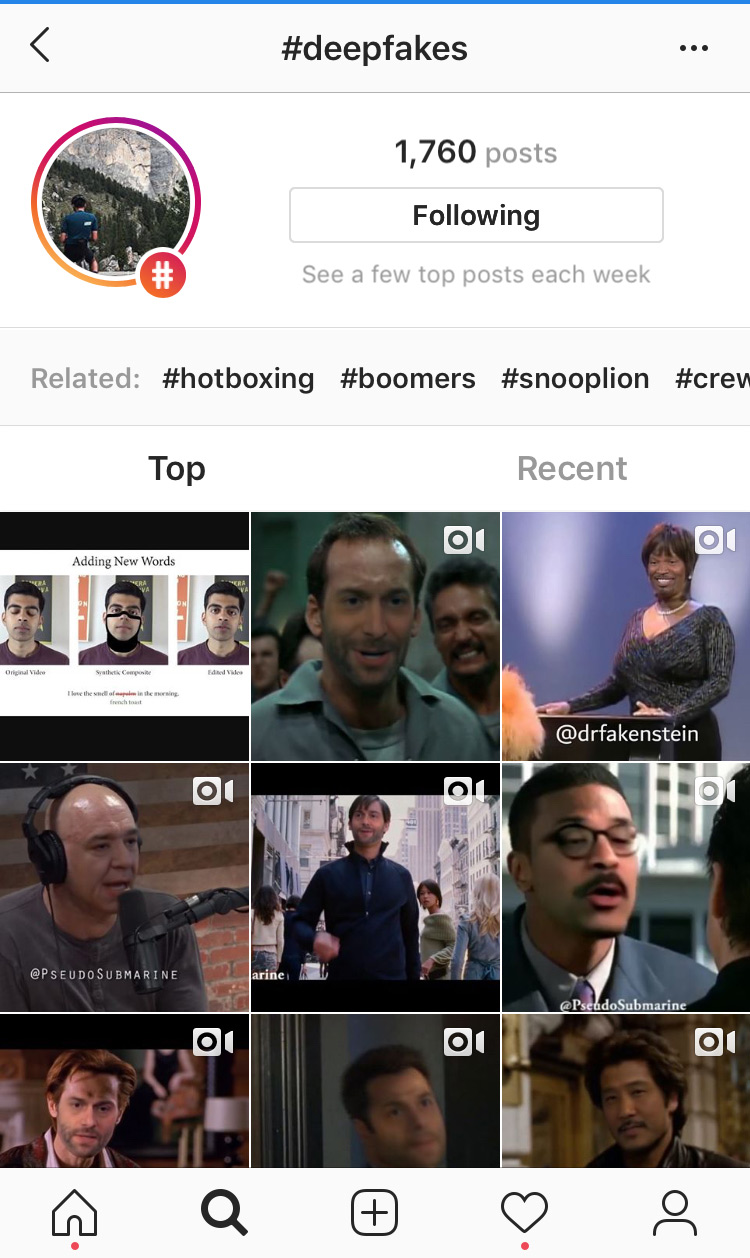 Where are our posts Adam?
Fact is, we will never know, and that is part of the problem as any external accountability, scrutiny and transparency of their architectures is currently impossible.
Any insiders want to shine a light on what happened here? If so, please email me securely! PGP public key on request 😀