Back
27.10.2018
Campaign: Bill Posters launches 'Waste World' – a new series of subvertising installations across the UK
In support of New Internationalist magazine's latest issue on Waste, Bill Posters has been taking the issues and conversations covered in the magazine into the streets of the UK to interrogate the reality and impacts of consumer waste in the spaces and places where we all consume.
Bill Posters says that "this unique series of weekly street art installations will see subvertising emerge in commercial and retail spaces to connect some of the core issues examined in the magazine to shoppers on the streets. The series will subvert advertising spaces to become a lens through which the public can view the profound social and environmental impacts of consumer waste in countries and communities hidden from view."
To start this journey, the first subvertising installation is in Manchester, where the worlds' first manifestations of industrial capitalism took shape in the Victorian era…
"Manchester this famous great factory town. Dark and smoky from the coal vapours, it resembles a huge forge or workshop. Work, profit and greed seem to be the only thoughts here …"
— Johanna Schopenhauer, Sämmtliche Schriften, Frankfurt, (1830)
Installation 1: Manchester, UK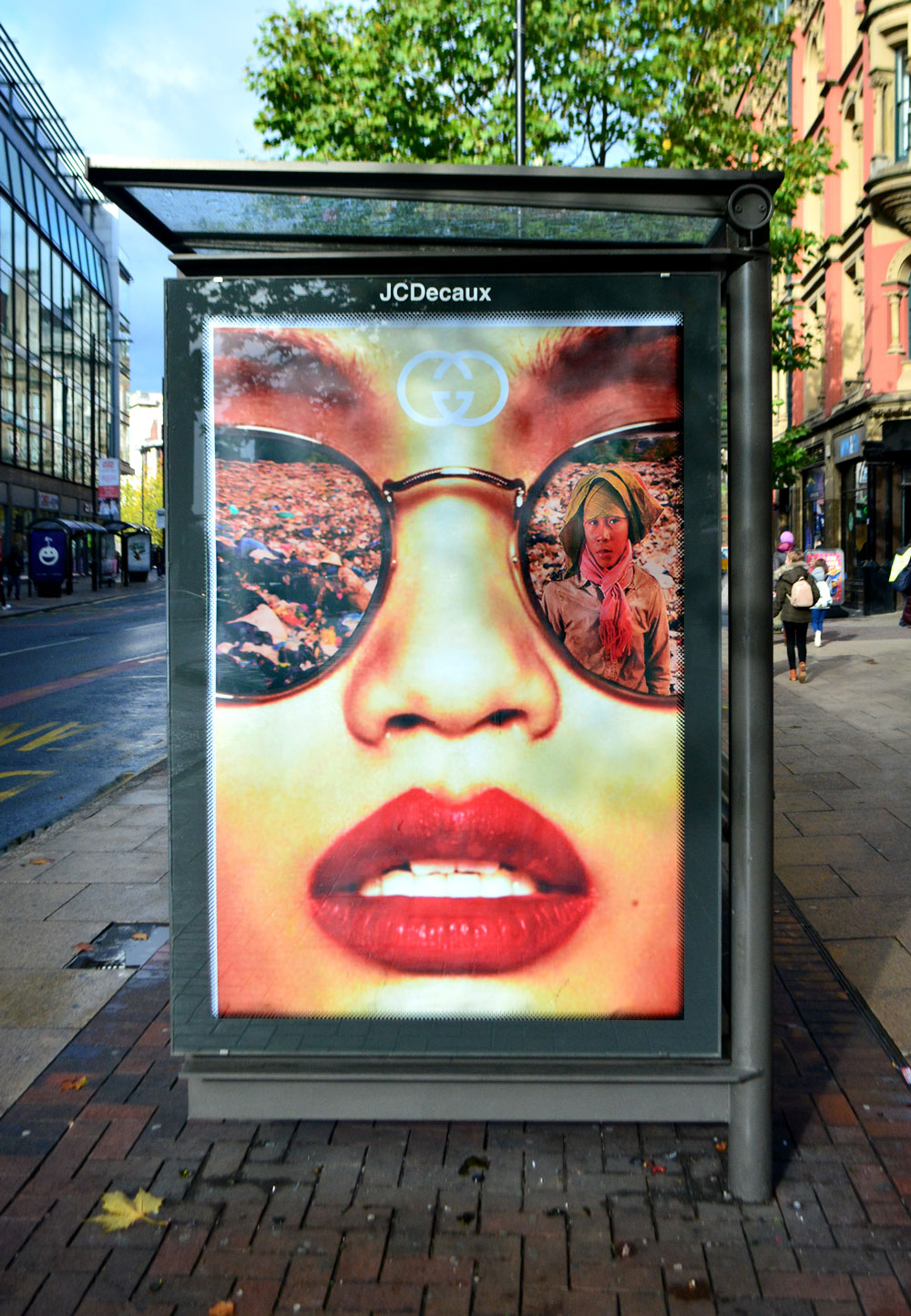 Artist Statement:
"Known as 'Cottonopolis', Manchester was the world's first metropolis and the epicentre for the global cotton industry. Manchester has a long history in relation to industrial textile production, shipping and distribution around the world. It seems fitting that we start this series of interventions here, amidst the streets, warehouses, factories and canals built off the back of slavery and exploitation linked to the textile trade so many centuries ago.
This artwork is focussing on high end fashion brands. Luxury megabrands such as Chanel, Dior, Dolce & Gabbana, Versace, Max Mara and Tory Burch are advertised across urban cities and digital spaces to high income consumers. As a result, high-income people generate 34% of the global share of waste. This artwork asks the viewer to pause and reflect, if only for a moment; to see through the veneer of glossy advertising and glimpse the impacts our lifestyles have on those less privileged."
– Bill Posters
Find out the scope of the problem and understand the issues in #NI516, the Nov-Dec issue that's digging the dirt on waste:
https://newint.org/issues/2018/10/24/dirt-waste
Follow Bill Posters on Insta to see the latest installments of the 'Waste World' campaign: @BrandalismProject