Back
6.02.2020
AWARD: Spectre Wins SXSW 2020 Artist Commission
After an agonising wait I am very pleased to announce that Spectre has been selected for a SXSW artist commission for this years programme. We will be joining 9 other artists and collectives for the exhibition programme in Austin, Texas.
We are delighted to receive funding from Arts Council England Future Art & Culture, SXSW, British Underground and British Council to produce Spectre at SXSW, in the context of the run up to the US 2020 elections. The Spectre project is part of the Future Art and Culture programme at SXSW 2020 presented by British Underground and supported by funding from Arts Council England.
We would also like to thank our current project partners for their continued support to date Sheffield Doc/Fest, Cambridge University Psychometrics Centre, CannyAI and Tactical Technology Collective have been incredibly generous with their support to realise this timely and complex work. We would also like to thank Site Gallery for their support in the commissioning of Spectre for the 2019 Sheffield Doc/Fest exhibition entitled 'Alternate Realities' where Spectre won last year's artist commission.
Our team has been working flat out to create a custom UX that localises the political context of the installation for the US 2020 elections. We are excited to bring this installation to US audiences in the run up to the elections when large-scale targeted misinformation campaigns will no doubt be affecting US voter perceptions, and Spectre exists to interrogate new forms of computational propaganda and the risks they pose concerning privacy and the integrity of democratic processes.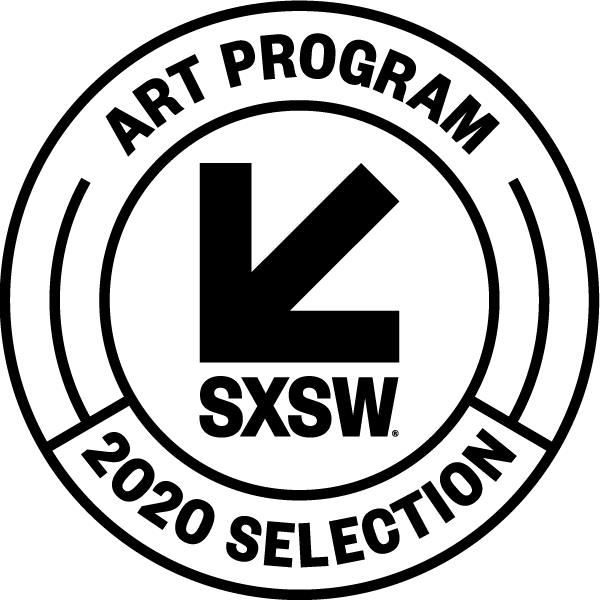 Co-creator Daniel Howe said "Spectre is an engaging installation that makes accessible the often opaque techniques and technologies of computational propagandists as they attempt to manipulate our behaviors online and off. Through this generous commission SXSW has enabled us to bring the work to US audiences during this crucial pre-election period."
Project Description:
Spectre, SXSW
Curated by algorithms and powered by visitor's personal data, Spectre is an immersive installation that subverts the secret technologies used by surveillance capitalists to influence our decisions online and in the voting booth. Via dark design and subtle user manipulation, Spectre interrogates new forms of computational propaganda including psychometric profiling, hyper-personalization, gamification and 'deep fake' AI technology.
Having received global media coverage and kickstarted intense debate around deep fake technologies and their impacts on democracy, Spectre is a provocative installation that creates space to explore and interrogate the deeper ethical and moral implications of surveillance capitalism on privacy, trust, truth and democracy.
In the lead up to the US 2020 Elections, as lawmakers struggle to reign in the power of tech giants and combat large-scale misinformation campaigns on social media, Spectre invites audiences to worship at the altar of Dataism with the gods of Silicon Valley. Feel the power of the digital manipulation machine and learn the secrets of their black box technologies as you manipulate others through their personal data. The only cost of admission is your privacy.
See our profile page alongside all the other artist commissions on the SX website here.